Meet Dr. Lance Carroll DC
Dr. Carroll didn't always intend to be a chiropractor.
I was a pre-med student and right around the time that I was due to graduate, I was at the point where I should have been taking the MCAT® exam and looking into medical schools. I realized that I didn't agree with the medical model and started trying to figure out what I wanted to do with my life.
The Winding Road to Becoming a Chiropractor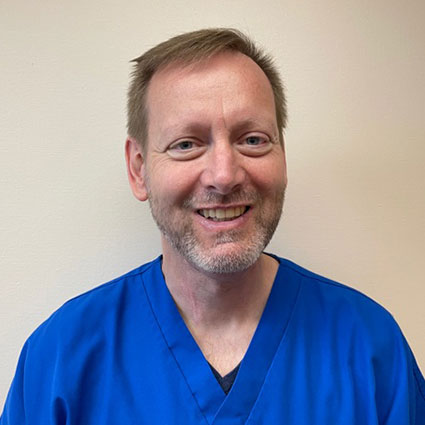 While Dr. Carroll's mother wanted him to be a dentist he had no interest in looking in people's mouths! So after graduating with his Bachelor of Science in Biological Sciences from Illinois State University he decided to further his education. He earned a Master of Science in Exercise Science-also from Illinois State.
Dr. Carroll seriously considered opening a gym as a personal trainer. However, something still didn't feel right so he scrapped that plan. Dr. Carroll took another job somewhere else and ran into a guy who was in some of his undergrad classes. "I asked what he was doing and he said he was a chiropractor." This former classmate asked Dr. Carroll if he understood what chiropractic was. "I told them, no, I had never been to a chiropractor."
The chiropractor told Dr. Carroll that if he'd like to come into his office, he'll explain it to him. Dr. Carroll took him up on the offer. "After he explained chiropractic to me I knew that this is what I was made for-to be able to help people naturally." He immediately decided to go to chiropractic school.
Chiropractic Education
In 2001, Dr. Carroll graduated from Palmer College of Chiropractic in Davenport, Iowa, with a 4.0 as one of two valedictorians of his class.
The Path to Moline and Regenerative Medicine
After graduating from Palmer, Dr. Carroll moved back down to Bloomington where he had been living for years while earning his bachelor's and master's degrees and a couple of years after. He decided to open up his practice there and stayed in Bloomington for five and a half years, before moving back to his hometown of Geneseo, Illinois.
Dr. Carroll opened a clinic in his hometown and practiced there from 2007 until 2019. In 2018, another chiropractor who Dr. Carroll was familiar with from their time as students at Palmer had an online forum for chiropractors. That chiropractor was talking about a seminar series in Mississippi which focused on functional neurology.
As Dr. Carroll thought it sounded interesting, he signed up and prepared to go down there. The chiropractor in Mississippi that taught the class had recently started doing regenerative medicine. "At the time it didn't make any sense to me why he would be doing that. However, after a couple of months, I found out more of the type of results he was getting for people." For Dr. Carroll, the powerful effects of regenerative medicine aligned well with the chiropractic philosophy of helping people be able to heal naturally. He also recalled that in chiropractic college, his obstetrics teacher, who was from New Zealand, told the class about the healing properties in the placenta and umbilical cord.
Excited about how promising human umbilical cord tissue allograft injections are, Dr. Carroll decided that he needed to bring this form of regenerative medicine to the Quad Cities. To be able to make it easier for people to find his office, he decided to move from Geneseo to Moline. "I opened an integrated medical practice and named it Quad Cities Regenerative Medicine to let people know that our main focus was going to be regenerative medicine."
EXPLORE OUR SERVICES »
Outside the Practice
When he's not working, Dr. Carroll loves to play the piano and sing. He particularly enjoys Christian music. Family is very important to Dr. Carroll. He loves to spend time with his wife Shannon, whom he met in junior high school. Dr. Carroll has a son, daughter, a stepson and two stepdaughters.
Book an Appointment
Contact Quad Cities Regenerative Medicine today to schedule an appointment with Dr. Carroll!
---
Dr. Lance Carroll | (309) 581-2999